Details

Category: English (EN)
Published on Friday, 08 July 2011 07:52
Hits: 18897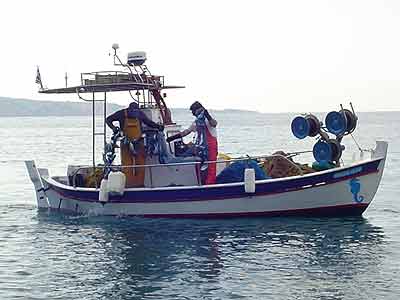 The first fishing boat, Nikolakis, has its own history in the Georgotzis family.
Before the tourism exploitation in Corfu, the first job of Dimitris Katsaros was an engineer in cargo ships traveling around the world. After his last trip, he bought a small fishing boat for the family's needs.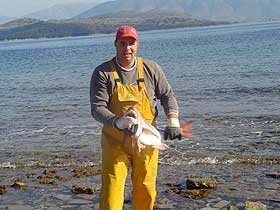 In 1980, Dimitris and his wife Frosso established their first tourist business in Kalami, a snack bar under the name "Kalami Beach", which in 1984 progressed to a taverna – bar, the "Kalami Beach Taverna – Bar".
Dimitris had already been fishing professionally with the small boat supplying the taverna with fresh fish. During fishing, he used to take with him his youngest son, George Katsaros, who loved joining his father in his "little journey", learning from a very young age the art of fishing.
In 1995, when George returned from the special forces of the army, he was confident that the only job he ever wanted to do was fishing. The business had to be expanded, as the size of the boat was not satisfactory for the taverna's needs. The fishing boat "Nikolakis" is bigger and organised with all the necessary equipment for the difficult and sometimes dangerous job of fishing. Fresh fish grilled or cooked, became the most delicious meal for the customers of the taverna. In 2010 the family welcomed the new fishing boat Georgotzis which is a modern, fully equipped boat for adventurous fishing. George sometimes leaves for days and almost every time he always returns with a really impressive catch. Tuna is a big fish that George supplies the taverna very often.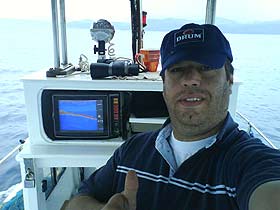 George is the soul of the boats, working with the knowledge, the love and the experience. He is considered as one of the most skilled and spirited fishermen in the area.
The fishing boats are in the sea all year round, (except a small period when they are out of the water, for general maintenance).
During the summer, George supplies his brother Nikos at the Kalami Beach Taverna with his daily catch of fish. In the winter, both brothers go fishing together and sell the fresh fish to the locals.
If you are wondering what happened to small fishing boat, Dimitris still owns it! His main job is the vegetation of the garden in Yaliskari producing fresh vegetables for the taverna, but he always finds the time to go fishing for white bait and sardines. Besides, who could not agree that these little fish are a delicious "meze" to start a meal?
Fishing is a different and unique experience every day. We welcome you to "Nikolakis" boat with captain Giorgos, who will introduce you to a typical fishing day.