Details

Category: Sample Data-Articles
Published on Friday, 08 July 2011 09:44
Hits: 5746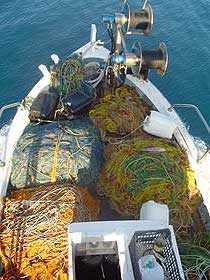 " The two main ways of fishing are either with nets or with long lines.
Fishing with nets varies on the selection of fish we wish to catch. You can find nets in different sizes and colours.
During the summer season and depending on the weather, approximately at 13:00 noon, we decide on the location we will net, after having consulted technology, such as the fish finder and GPS.
We start netting. Usually, there are 2 people on board, the first is handling the boat and the second is handling the nets. These people must have perfect communication, as any mistake can cost.
Depending on the amount of fish we need, we net the proportional metres of nets. During the summer, we usually use 3 - 5 km of nets. As soon as we finish with netting, which is lasting about 5 hours, we return to the port, where the boat has to be cleaned and maintained.
We then hope for luck on the next day and that the sea is generous to us.
On the following day, just before the sun rises, we set sail for our destination in our water resistant uniforms.
We start to collect the nets, whilst the sun rises. When the fish appear, we take them off the nets and put them in cool boxes with ice, in order to keep them fresh.
After the collection of nets and the gathering of fish, we return to the restaurant delivering our fresh catch.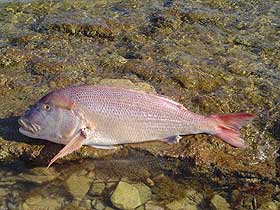 We finally go back to the port, where we clean the nets from stones and various sea herbages, as we need them ready for the evening. This procedure can last 4-5 hours and more.
Fishing with long lines is easier and more pleasant than the nets, but not so productive.
Usually, we start very early in the morning before the sun rises.
We take bait with us. The bait varies from sardines to octopus or squid.
We choose the location, depending on the weather, and net the long line, which is usually left in the water for 2-4 hours.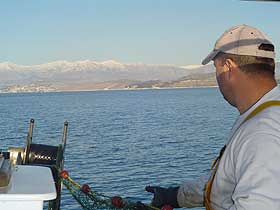 The collection of the long line lasts double the time we dedicate to netting.
I hope that I have presented you with a small part of my job and how a typical fishing day looks. We work very hard every day during the summer, contributing to the success of our restaurant.
We are glad to see our customers returning to enjoy our fish dishes every year.
We invite you to visit our restaurant and choose from our menu a dish of your preference. I am sure you will come to appreciate the flavour and taste of a freshly caught fish."
George Katsaros